| | |
| --- | --- |
| Year: | Sr. |
| Hometown: | Leslie, Mich. |
| High School: | Mason |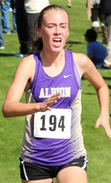 Year: Senior
Major: Anthropology and religious studies double major
High School Personal Bests:
5k- 20:31
3200m- 12:01
1600m- 5:34
Albion College Cross Country highlights
An all-Michigan Intercollegiate Athletic Association second team runner in 2018. She was Albion's second runner in the MIAA Championship (23:30.3)
Albion's second runner (92nd overall, 24:31.0) in the 2017 NCAA Division III Great Lakes Regional Championship
Albion's second runner (18th overall, 22:52.4) in the 2017 MIAA Championship
Albion's fourth runner (32nd overall, 23:50.9) in the 2016 MIAA Jamboree
Albion's seventh runner (47th overall, 25:11.7) in the 2016 MIAA Championship
Why I chose Albion College:
I chose Albion because they really reached out to me and made me feel welcome. I also like all the study abroad opportunities.