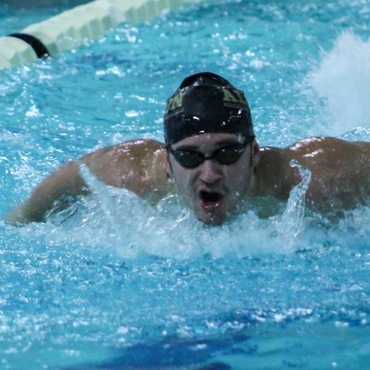 A two-time Scholar All-American (as designated by the College Swimming Coaches Association of America)...Gained All-America status with a sixth place finish in the 400 freestyle relay during the 2017 NCAA Division III Championship (school record 3:00.12 in the preliminary heat)...An honorable mention All-American with the 200 medley relay in 2019 and 200 freestyle relay team in 2017 and the 400 medley relay team in 2018...Achieved distinction on the Michigan Intercollegiate Athletic Association Academic Honor Roll for the 2017-2018 year.
2019: An at-large selection to the all-Michigan Intercollegiate Athletic Association team for the second time, gaining silver medals in the 200 and 400 freestyle and 200 and 400 medley relay events and a bronze medal in the 100 freestyle...Placed on the MIAA Academic Honor Roll.
2018: An at-large selection to the all-MIAA team...Member of the winning 200 medley relay that achieved a meet record and NCAA 'B' cut (1:29.71) in the Michigan Intercollegiate Athletic Association Championship...Won the silver medal with the 400 freestyle relay and the bronze medal in the 100 free during the MIAA Championship...Named the MIAA Men's Swimmer of the Week Jan. 16 after his 21.17-second anchor split carried Albion to a come-from-behind win the 200-yard medley relay, and it generated the momentum the Britons needed to upset 14th-ranked Calvin. He also took first place in the sprint freestyle events. He edged Calvin's Jared Britton in the 50 –yard event by five hundredths of a second and the Knights' Max DeYoung by seventh tenths of a second in the 100.
2017 MIAA Championship: Member of the champion 200 and 400 freestyle relay teams and reached the championship final in his three individual events (sprinting to sixth place in the 50 freestyle and seventh place in the 100 freestyle and finishing eighth in the 100 butterfly).
Prior to Albion: An All-American in relays and all-state performer in individual events who was a member of the 2014 and 2015 Seaholm teams that captured Michigan High School Athletic Association championships in Division 2...Also played soccer at the varsity level at Seaholm...The Student Class president, member of the National Honors Society and a Oakland Activities Association Scholar-Athlete award winner.
Personal: A finance major who is a member of Albion's Carl A. Gerstacker Institute for Business and Management...Lists sailing as a hobby...Son of Scott and Shawn Ciemniecki.