By Nnenna Nnaji, '21
"At first I didn't think I made it, but when it hit the backboard, I knew it was good." That is how sophomore guard Jamezell Davis, Jr. described his game-winning shot that carried Albion College to an 87-85 victory over Olivet College and a date in the 2019 Michigan Intercollegiate Athletic Association Men's Basketball Tournament championship game for the first time since 2005.
The next day, he scored 11 points in the 76-73 victory over Trine, bringing the tournament title home to Albion for the first time since 1998.
Davis received national coverage when his big shot hit Number 2 on ESPN's SportsCenter Top 10, and he was overwhelmed by the acknowledgement he received from people all over. "When I went home my mom had like six different SportsCenters recorded with six different broadcasts, so it was just all around crazy to see my name said on national television," Davis said. "My phone was going crazy for about 3-4 days after that game."
"I couldn't respond to every single person even though I wanted to, it was just so much," Davis said.
Only a sophomore, Davis has shaped himself into an all-MIAA first team pick after averaging 12.5 points and 3.7 assists in 11 games against league rivals this season.
While he has good instincts and maintains a passion for Albion, Davis credits his teammates for driving him to achieve success on the court.
"My teammates are really the main reasons for everything that has come to me," the Ypsilanti, Mich., product said. "Just being pushed in practice by the guys, and them going at me, makes me better every day. It makes us better. The competition during practice really raises my intensity, which I use in game situations. The support from them alone, keeps me going and motivated. We encourage each other, it's like a family here. We all get along, and we want to see one another do good on and off the court. We just want to see each other win, so we all push one another to be the best that we can be."
Davis also credited Head Coach Jody May for creating a family environment within the program while pushing the players to develop their individual skills.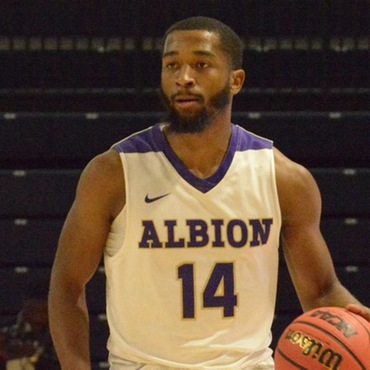 "When I first came here they welcomed me with open arms. As soon as I got here it really felt like home. The program was something that I really wanted to be a part of. The culture of the team was very nice, and it reminded me of high school, so I thought this would be a perfect fit for me. We really are like a big family. Our coaches do a very good job of player development, and the workouts and plays that they put in are really effective. They stay on us about getting better every day, so we can meet our goals as a team. They really are great."
When you are at the top, you must fight to stay at the top. Coach May gave some constructive advice to assist in Davis' continual growth and evolution during his Albion career.
"Throughout the season I talked a lot about the more you win the bigger target is on your back and I think a little bit of the same way for Jamezell, the better player you are the more of a target you have on your back," May said. "With all his tendencies and his strengths next year and the year after, teams are going to try to take those away, so it is going to be a challenge for him improving his game, especially in the off season. You make your greatest strides when you're in the off season, so I think this is going to be a really big year for his personal development. I think the challenge for him is to get in the gym and work on some of his weaknesses and becoming better so that he becomes a harder player to guard."
While an integral part of every opponent's scouting report, Davis will also have to assume the role left by the six graduating seniors who built the championship culture the Britons enjoyed in 2018-19. Coach May talked about the new roles Davis will have to pick up.
"We had six seniors that did a great job being the vocal leaders on the team, and we wouldn't have had the success without those seniors. Jamezell didn't have to take on a role of being a vocal leader and getting everyone to jump on board, so that is going to be an important thing for him and his next steps and roles in development," May continued. "Now, it's going to be up to guys like Jamezell to take on this role. And I think our success next year will be defined on how well we can replace that leadership the seniors had."
Davis added, "Leadership is constant, 24/7. You don't really get a break from leadership, but I have learned to accept it, and it has been going good for me. I will continue to get better."
ABOUT THE AUTHOR: Nnenna Nnaji is a sophomore from Detroit and a product of the journalism program at Renaissance High School. An exercise science major at Albion, she is still considering a career in sports journalism.
Twitter: @AlbionMBB
Joe and Julie Serra have given a $5 million leadership gift to launch a fundraising initiative to make two dreams a reality at Albion College. The first is a newly expanded fitness and student activity facility at the site of the current Dow Recreation and Wellness Center. The second is a new or renovated competition facility for the volleyball, men's basketball and women's basketball that currently call Kresge Gymnasium home.
The College is continuing to raise funds in support of both projects. To learn more, call 517/629-0446 or email advancement@albion.edu.