March 27, 2013
Albion Passes Final Non-League Test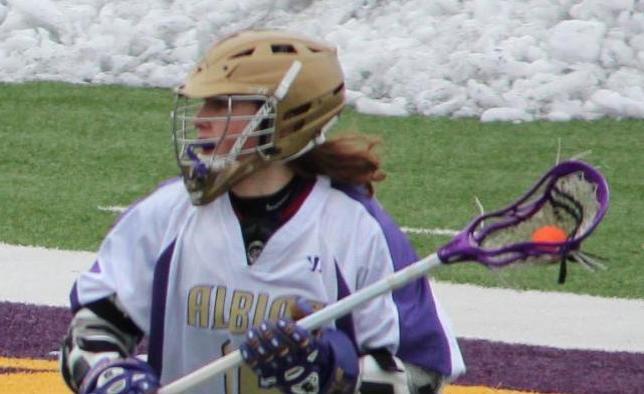 | - | 1 | 2 | 3 | 4 | T |
| --- | --- | --- | --- | --- | --- |
| Albion (5-3) | 2 | 4 | 4 | 4 | 14 |
| Beloit (2-6) | 0 | 3 | 0 | 0 | 3 |
Albion
Beloit

G:

2 Players (#5, #40 - 3)

G:

3 Players (#8, #23, #29 - 1)

A:

Joel Hedemark - 3

A:

Thomas Porkka - 1

Sv:

Ian Monkman - 4

Sv:

Trevor Kenahan - 11

GB:

2 Players (#4, #5 - 6)

GB:

Jack Jenkins - 6
| Team Statistics | Albion | Beloit |
| --- | --- | --- |
| Shots | 38 | 25 |
| Ground Balls | 35 | 30 |
| Saves | 5 | 17 |
| Clears | 11-14 | 10-22 |
| Turnovers | 13 | 18 |
| Face Offs Won | 8 | 6 |
| Man Up | 3-5 | 1-6 |
full stats
BELOIT, Wis. – Cameron Braun produced three second half goals as Albion College pulled away for a 14-3 victory over Beloit College in its final tune-up prior to the start of Michigan Intercollegiate Athletic Association opener.
The Britons will take a 5-3 record into their April 6 league opener at Olivet College.
"It was a great all-around performance," Albion Coach Jake DeCola said. "Cameron stepped in when Dan Genord started taking face-offs. Beloit started strong but could not get things going against our defense. Cameron Smyk led the defense by holding their top player scoreless."
Tim Urso, Genord, and Kevin O'Grady scored the first three goals and Albion never trailed in the match. Beloit cut the Briton lead to 3-2, but Mitch Loney, Joel Hedemark, and O'Grady provided the response and Albion's lead was never threatened.
In addition to his first-quarter score, Genord tacked on two goals in the third to match Braun with three goals. Hedemark dished out three assists and O'Grady produced two assists.